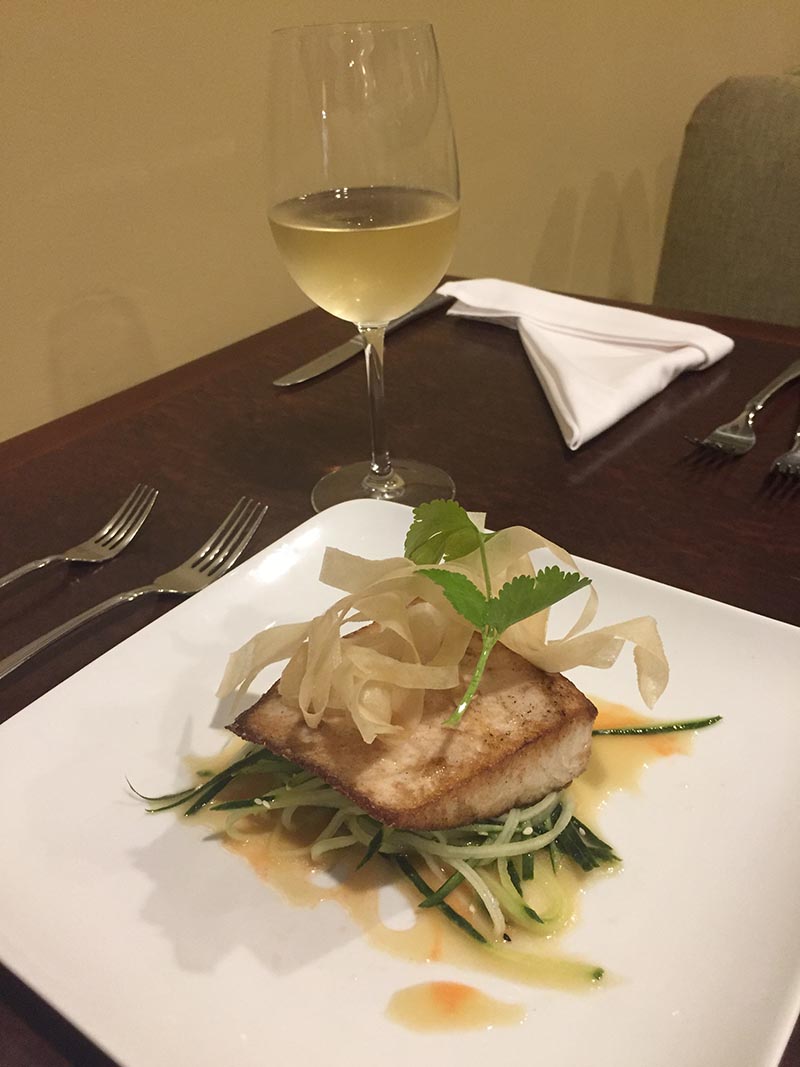 Ingredients
6-ounce Cobia filet
1 Cucumber cut julienne
1 Spring Roll Wrapper cut ½ wide and fried
1 tablespoon White Sesame Seeds
2 tablespoons Miso Paste
3 tablespoon of Sake
4-ounces Canola Oil for vinaigrette
2-ounces Rice Wine Vinegar for vinaigrette
¼ -cup Canola Oil for cooking fish
Salt and Pepper to taste
Method
Cucumber Slaw
Julienne one cucumber down to seeds, combine with sesame seeds, season with salt and pepper, then set aside.
For Vinaigrette
Combine in a small bowl the sake miso and rice wine vinegar. Slowly whisk in the 4-ounces canola oil until mixture has emulsified.
For Cobia
In a hot wok or frying pan, place 1/4 cup of Canola oil, wait 2 minutes until oil is hot, then gently place fish in pan and sear on both sides for 2 minutes, remove from pan, then place on heat proof pan and place in 350-degree oven for 5 minutes.
Cut rice paper wrapper in 1/2 inch strips fry in canola oil for 2 minutes and reserve.
To Plate
Toss cucumber with a small amount of vinaigrette and place on center of plate. Place fish on top, place vinaigrette around cucumber and fish, then top with rice paper and finish.
Recipe courtesy of Tack & Jibe Eatery, www.tackandjibeeatery.com. Chef Steven Strenkert recommends pairing the dish with a glass (or two) of Alois Lageder Dolomiti Pinto Grigio 2015.