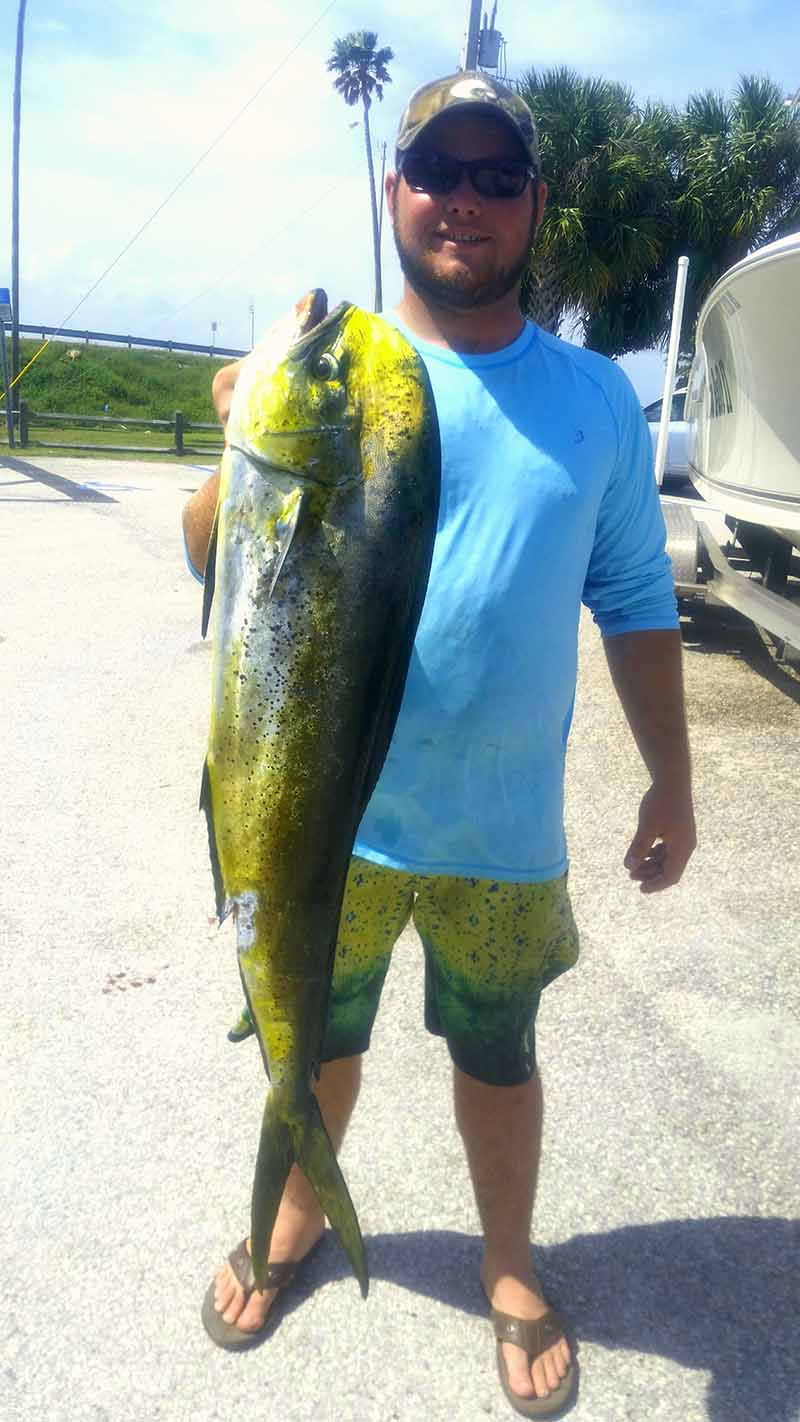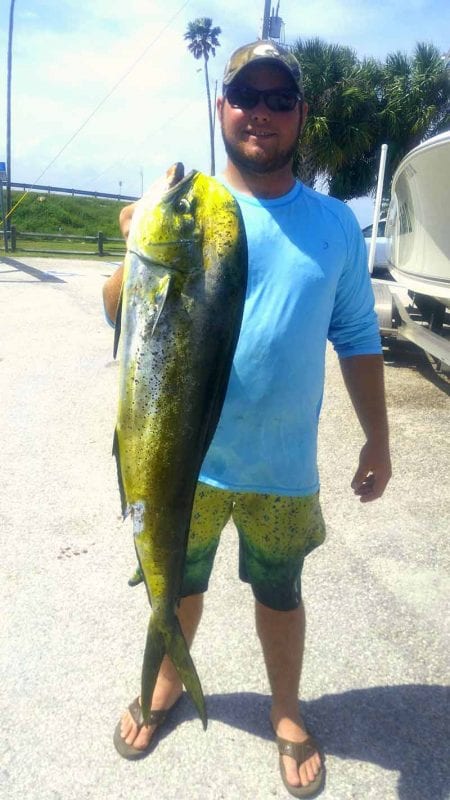 April is here and the spring mahi run begins! This is the time of year when the cooler water temperatures will start receding back to the north and mahi (dolphin fish) will be starting to come through the area from the south. Mahi are always in the water off the Treasure Coast, but with the fish working their way north, there will be even more and bigger fish in the area.  There will be a lot of fish caught in the 30- to 40-pound range and some upwards to the 50-pound range.
Mahi are a great fish to catch with their spectacular aerial display of jumps and beautiful colors, a few in the fish box will make for a great day. To end a day of catching, the Mahi will make a great dinner!
When heading offshore, always have live bait, such as greenies or sardines, if possible, and fresh rigged ballyhoo. If there are no obvious signs of mahi, such as weed mats or rips containing weed lines, start your search beginning to troll in the 75- to 80-foot range and head out towards deeper depths until you can find the mahi (or they find your bait). While trolling, keep in mind if you want to cover more distance and therefore troll at a higher speed, use your rigged ballyhoo (about 5- to 8-knots). If you troll live baits. you need to troll at much slower speed (idle forward) and will not cover as much ground. Always keep a live bait rigged on a pitch rod. We leave enough loose line to leave the pitch bait in the live well so it can be grabbed and pitched the instant we see school of mahi (or any other fish such as a cobia under a turtle).
While trolling, keep a lookout for weed lines, rips, color changes and floating debris or cover holding live bait. When cover is found, I prefer to switch to live bait and troll at idle speed.  Also, feel free to grab the pitch rod and throw the pitch bait in a few different directions. The type of cover holding live bait can also hold triple tail so keep an eye open for them as well.
After getting a mahi boat-side, always leave it in the water for a few seconds to see if there are any followers. If more mahi are around the boat, start using chunk bait or squid to entice them to bite. The bigger mahi usually will only have one or two fish that will follow, but smaller ones can have many. Be aware of the rules, regulations, limits and current lengths prior to fishing. If you run into a large school of mahi, there are usually some smaller mahi that will not be legal length and should be released back to the water as soon as possible.
Preferred tackle would be 30-pound set-ups with 30-pound mono. The mono line is best used for trolling to absorb any stretch from a hook-up while the boat is moving. If using ballyhoo, you can use up to 80-pound leader due to faster trolling speeds since it won't be seen as easily. If you are using live bait, 50-pound mono leader is quite sufficient and less visible. This is a great time to find the bigger mahi, so get out there and hook'em up!
FORECAST BY: Capt. Danny Markowski
LottaBull Fishing Charters
Phone: (772) 370-8329
Email: lottabull4@bellsouth.net
www.lottabullfishingcharters.com