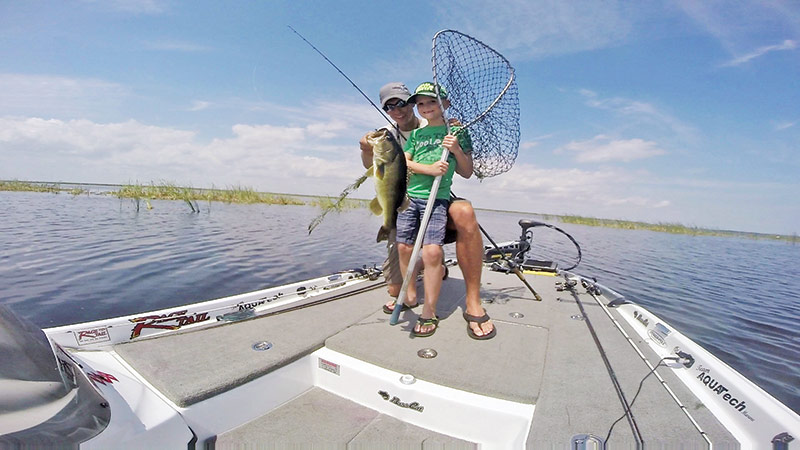 For many years, I have been educating people on fishing. Whether it's been through Fishing with America's Finest, guiding, working at Bass Pro Shop's Fishing Classics in Dania or the IGFA, there's so much we could discuss. Such as, how different line sizes could change the complexity of how a lure swims or the depth it reaches. How using bigger trailers on jigs could affect the rate of fall and how it swims, or reel speed, rods, line, etc. No matter where I have fished, I am often asked, "If you could pick one bait, one cadence, one technique what would it be? What could help make me become a more successful angler?" Well, I've have the opportunity to fish with some of the most skilled anglers around. Some of them have even won the Bass Master Classic.
When the pros get on the podium, they hold up a lure and they tell everyone this is what I was doing. Knowing that they just won thousands of dollars doing this, do you think that guy is going to show you to his favorite bread and butter bait, his very best technique or show you his best spot? Nope. Ain't happening.
I would like to share with you what I have learned over the years fishing tournaments, as a guide and a recreational angler. The most important component I can share with you is time. Time! That's right, time on the water. Breaking it down. Go to areas of the Everglades that have been most productive for you. Keep a journal. Write what time of year, what direction the wind was blowing from and how fast it was blowing, water levels, what time of year do the fish move on to the flats, what time of year do they come off the flats, what time of year do they relate to the ledges, pre-spawn, post spawn, what time of year do they move north or south. The only way you will know all this is TIME! Putting in your time is the most important component of fishing. Fishing is no different than any other sport. You have to practice. You'll need to go out and make repetitive casts so you can be pinpoint accurate. You'll have to fish in the cold, rain, storms and on hot miserable days. Time doesn't have to be on the water. Time could be researching, studying and reading, like you are now. Nobody just shows up with a box of different lures and does well. Can it happen here and there? Sure, but not consistently! Bottom line, put in your time and you WILL become a very successful angler.
On to the hot spots.
#1 – Mile Marker 35 or 41: Fishing is great right now! The best way to catch a really big fish is to swim big worms through the pads and grass. Burner worms, Fat Aces, Flukes, Horny toads, Flappin shad will all produce. Flipping a jig is great technique. Make sure you go really slow around the weirs. A weir in the Glades is passage where it gets very narrow & shallow and it connects two bodies of water.
#2 – Sawgrass: Here's the rule on soft plastics. Dark or dirty water dark colors, like black and june bug. Clean or clear water, light colors such as watermelon green, green pumpkin or watermelon with red flake. All the techniques above are working.
#3 – Holey Land: First thing in the morning, throw topwater with spooks and poppers. Then worm the bottom with a Fat Ace or a 10″ worm. Toss a sinko around. Frogs and flukes will also produce some really nice fish.
#4 – Holiday Park: The flats are producing some nice fish. However, you must fly a orange safety flag, 10 feet above the deck of your boat to enter. Be cautious! Unless you know how to navigate the flats and know your way around, I wouldn't recommend it. Use search baits like swim jigs with a dipper or craw on them. Big easy and EZ swimmers are catching their share of fish. Try pitching big jigs with your favorite baits.
#5 – Lake Okeechobee: Rattle traps, crankbaits, spinnerbaits, chatter baits. Pitching big jigs with your flipping baits are getting crushed. I like a Why not, Flappy Daddy, Mega Daddy or Ugly Otter. Search baits such as swim jigs with a dipper or craw will bend your rod. Slowing way down by pitching a Fat Ace, Ace or working a worm through the grass is also a great technique to put some big girls in the boat.
May God bless you all with good health and bent rods.
Capt. Neal Stark
(954) 822-1481
Fishing with America's Finest, Inc.
"Changing Lives One Cast at a Time."
501(C)(3) Non-Profit Organization, FEIN #45-5494005
www.FishingwithAmericasFinest.org
fwaforg@gmail.com
American Everglades Guide, Inc.
www.AmericanEvergladesGuide.com
aeguideinc@gmail.com