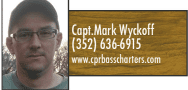 The Bass bite has been steady all throughout the Chain of Lakes. With the first of this season's Northeastern blows already passed, the water temp as well as the air temp is getting lower. The top-water bite is picking up as the shad are beginning to group up in large schools, so have a plastic frog or popper bait tied on one of your rods. Find moving water or current coming out of the Dora Canal, Dead River, Haines Creeks or areas with heavy hydrilla edges where the wind creates current and you will find the bass.
Harris Chain has been fishing great on lipless crankbaits, medium size swim baits or soft plastic jerk baits and vibrating jigs. If you find eel grass you will also find bass. Canal areas on Lake Griffin are some areas to checkout as well as the canals leading to other lakes on the chain. If we get a good cold snap early this year it will get the fish moving in shallow.
The Crappie bite has also been better with each passing moon phase, with Lake Eustis, Dora and Carlton all producing some nice size specs as well as good numbers. Bright colored jigs tipped with a minnow or a minnow swimming naked has been the baits of choice. Around the moon phases the fish are moving shallow to spawn, fish groups of pads, Kissimmee grass edges and openings in the vegetation. Once you catch one there are usually several in the same area, slow down and fish thoroughly.
In between the moon phases look for fish in the closest deeper water to these same areas. Adjust the depth of your baits in the water column until you start catching them and then adjust your other baits to that depth. Be sure to get registered for the Shad and Crappie Derby and upload your catch photo to win some great prizes. Crappie are a great species for kids!
No boat, no problem – today is the perfect day to book your own guided fishing charter on The Harris Chain of Lakes. Check the deals on: www.cprbasscharters.com. Captain Mark Wyckoff 352-636-6915