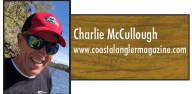 It already feels like summer outside. In May we can expect hot fishing to accompany the warmer weather in central Florida. Post-spawn bass, spawning shellcracker, and spawning catfish are the freshwater targets this month.
Bass – Early morning schooling bass can be found at first light near the St. Johns River mouths of Lake Harney and Lake Monroe. Throw shad imitation slash/crank baits like a Rapala X-Rap. The time-trusted rattle trap in chrome with black back mimics the bream they are feeding on. Bass will readily eat the live shad if you can cast net some. After the early morning bite, focus on deeper edges near lily pads with Carolina rigged soft plastics – use dark colors like blue/black or black/red.
Panfish – All day catching limits bestow the anglers with patience and a big can of red worms. The spawn is on for shellcrackers. Target them along sandy shorelines anchoring before or after the bends in the St Johns near the bank in 3-8 feet of water. Hook size should be #4; weight the wiggler to the bottom with one or two split shots. Fly anglers using poppers will enjoy all day action. Crappie are finished spawning but can be caught near deep water structures like the Lake Jessup bridge pilings or fallen logs found along river bends – try a red colored 1/8 oz. round jig head tipped with a 2" curly white grub tail.
Catfish – Bring on the rains! April is typically the lowest water level during the year; May is when levels begin to rise. One to three days following a big rain, the water begins rushing from the creeks into the St Johns River system flowing north. This signals catfish to swim upstream to spawn. Peeled fresh shrimp on a 2/0 circle hook works great in the deepest river or creek bends. Use just enough weight to hold bottom.