St. Augustine Inshore – August Fishing Report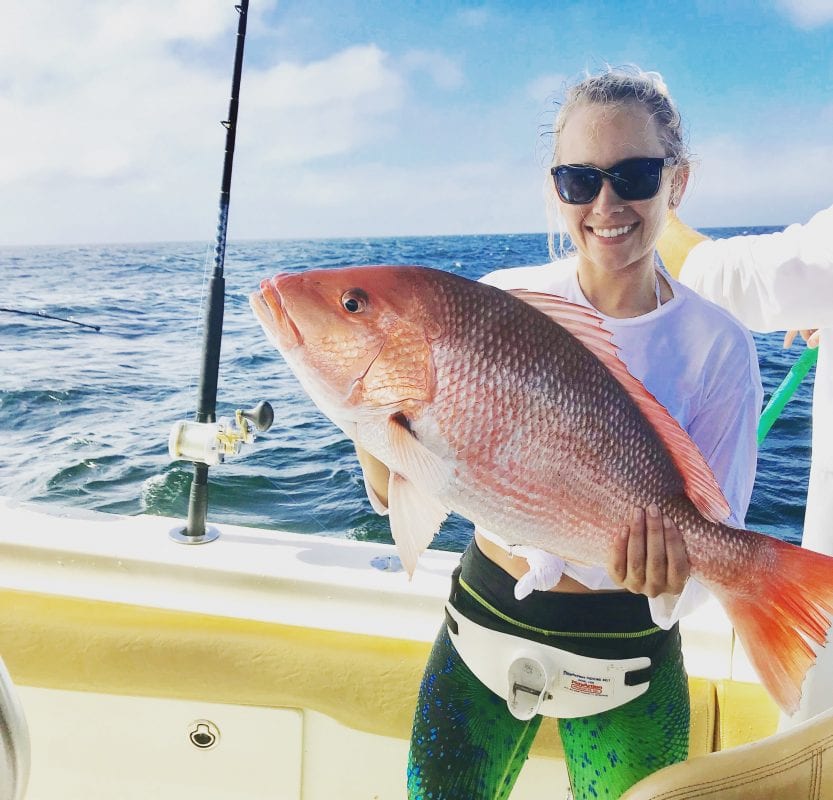 Snapper & More Snapper
Mangrove snapper fishing has been as good as it gets. The larger ledges and wrecks in 100' – 145' is target areas.  Light tackle in the 20 to 30-pound class is the tackle of choice. Use just enough weight to get your bait falling towards the bottom. Vermillion snapper, Triggerfish, Red porgy, and African Pompano have been available as well. Cut squid on the bottom is the way to go for smaller fish. Keep a jig rod ready for the Amberjack, Pompano, and Cobia that are sure to show up. On recent trips our anglers have been rewarded with Mangrove, Amberjack, Vermillion, Pompano and Cobia.
On the trolling scene King Mackerel fishing has picked up and live bait fisherman have been rewarded with some nice fish. In 21 fathoms there are areas holding schools of blue runners. Find those schools and you're in the money.
BUT, Speaking of RED Snapper, dates have not been announced as of mid-July. The best guess is sometime in August, on a Friday, Saturday, and Sunday. Dr. Roy Crabtree, NOAA Regional Administrator says 2-week notice will be announced prior to opening. Bag limit will be 1 fish per person per day with no minimum size limit.
It's a travesty fisherman are penalized for the government's inability to act in a timely manner. Amendment 43 allows for a Red Snapper season and has been on Secretary Commerce, Wilbur Ross' desk for weeks waiting on authorization.
Amendment 43 allows for limited harvest of Red Snapper in the South Atlantic. This amendment needs to be approved IMMEDIATELY.  Sound scientific data collected by state and federal agencies indicate Red Snapper biomass in the south Atlantic is rebuilding rapidly and approaching MSY.
The public should NOT be penalized by the lack of Governmental ability to accurately monitor recreational effort and landings. It has been suggested numerous times by the SGAP that implementation of a Federal Reef Fish Stamp allowing more accurate data would be a HUGE step in solving the problem of, ACCURATELY identifying WHO intends to FISH for REEF fish and WHAT they are catching. DATA. Sound, reliable, accurate. DATA is what is missing in fisheries management! The MRIP system needs to be completely revamped. Its FAILURE is causing grave harm to the fishing communities and the many jobs they represent in this nation.
Let's MAKE FISHING COMMUNITIES GREAT AGAIN!!
Contact your state and federal representatives:
Governor Rick Scott:

Congressman John Rutherford:
https://rutherford.house.gov/contact
Senator Marco Rubio
https://www.rubio.senate.gov/public/index.cfm/contact
Congressman Ron DeSantis – (BTW – He's running for Governor)
https://desantis.house.gov/
Senator Bill Nelson
https://www.billnelson.senate.gov/email-bill-thank-you
Secretary of Commerce, Wilbur Ross
https://www.commerce.gov/form/provide-feedback-about-commercegov
Until next Month – Tight lines – Lets Go Fishing
Capt Rob
904.540.2628
https://www.facebook.com/jodielynncharters/
www.jodielynncharters.com