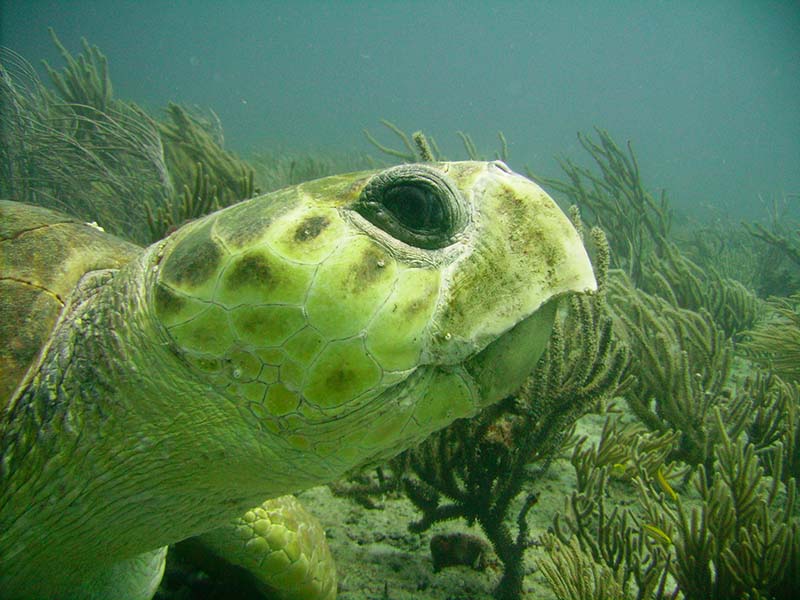 April marks the return of sea turtles in large numbers to south Florida and as spring gets underway divers should expect to see an increase in sightings on area reefs. Hunters should know lobster season closed April 1st and grouper season continues to be closed through the end of the month. Water temps are starting to warm up, which is always nice!
When the water hits 80°, many local divers in south Florida consider this the start of 'dive season' and with such a mild winter this year, it is entirely possible this will happen this month. Early in march, Divers were already reporting temps in the upper 70s!
Warmer temps also signal turtle nesting season is approaching. Florida coastal waters are home to five different species of marine sea turtles that divers have the opportunity to encounter while underwater. Loggerheads, hawksbill, and green turtles are relatively common whereas leatherback and Kemp's ridley are a rare treat. This time of year, mated pairs of loggerheads are frequently seen on the surface and once begun, mating can last for several hours. This leaves them vulnerable to passing boat traffic. Care should be taken to avoid disturbing breeding activities. All Florida sea turtles are protected by the endangered species act making it against the law to harass or otherwise interfere with their normal behavior. Many consider it a violation to impede their direction of travel underwater. Divers are encouraged to report sightings of tagged hawksbill to the Florida Hawksbill Project (floridahawksbills.com) to aid ongoing research. Small silver tags are located on the back of the front flippers, near the 'armpit' area.
Since grouper season remains closed through the end of the month, spearfishermen should consider targeting snappers, cobia, triggerfish and amberjacks for smoked fish dip this time of year. Each of these can easily be found in the coastal waters off the Treasure Coast and make great table fare, although landing one is easier said than done. Big mutton and dog snapper are notoriously smart and hard to approach, so many hunters will load spear guns on the way down and be ready when they hit the bottom. A diver may only have a few seconds to make a shot before the fish hide into structure or scatter out in the sand and being ready will help make the most of a short opportunity. A good flashlight comes in handy too when fish duck into holes. Cobia and amberjacks are usually out in the open but still are a tough fish to land since the minimum size limits are 28-inches and 33-inches respectively. Staying clear of shooting lines and being aware where buddies are can lower the risk of becoming tangled or a fish getting away. Some may even experience a little-known rite of passage called a South Florida Sleigh Ride. This happens when a big fish takes off down the reef with the diver dragging behind, holding on to the spear gun for dear life. Teamwork really helps.
FORECAST BY: Steve Wood
Deep Six Watersports – Stuart
(772) 288-3999 Stuart
(772) 562-2883 Vero
Email:  Steve.wood@deepsix.com
Website: www.deepsixintl.com