by Capt. Mike Manis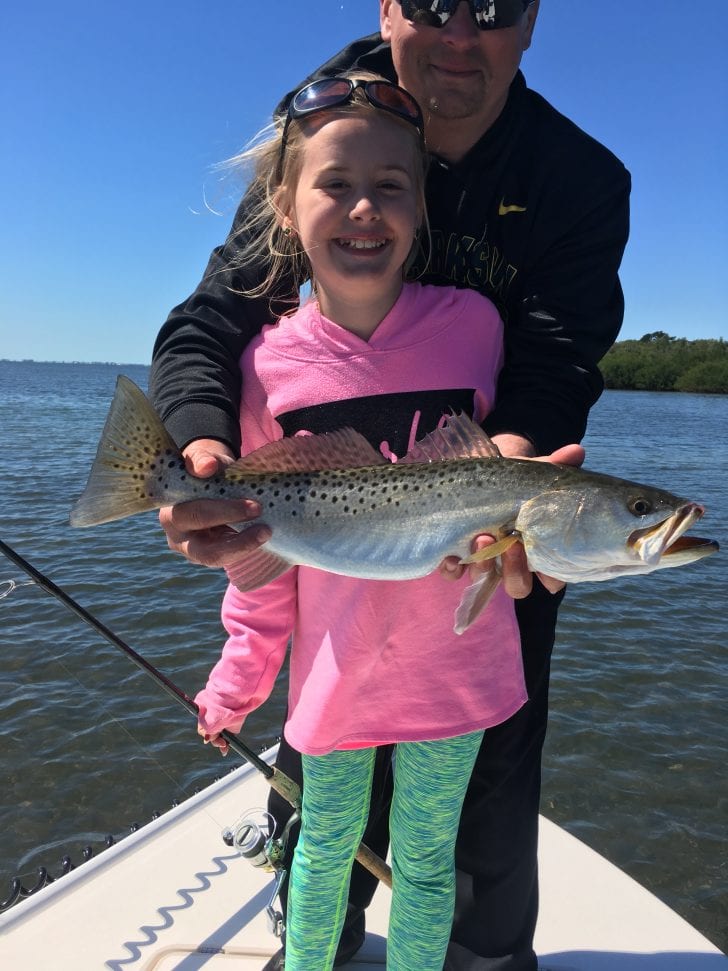 As we enter the middle of our winter season, wind and low water will be a constant. As they're tolerant to cooler conditions, I'll concentrate on spotted sea trout and redfish. I also want to work the beginning of an incoming tide. In addition, I'll split my time working sand holes on open grass flats and making my way back up back country creek systems. Up these creek systems, I like dead end coves covered with sand bottom.
After a couple cool months, these creeks are a natural transition area for our game fish, as they'll move up into these areas to warm up on the shallow sandy bottom. Multiple months of cool weather is also why I also like the early incoming tide. Bait has been scarce for long enough that these game fish will begin looking with some urgency. They feel the tide instantly and begin working up the creek or flat rushing to get a shot at what was unobtainable on low water. They know their chances are best early before the prey has a chance to vanish.
Additionally, I'll downsize my baits. Clouser deep minnows work well over the sand holes out on the grass flats and small baitfish patterns are good up the backcountry creeks. Out of the wind, I prefer a seven-weight. However, if I'm out on an open flat in the wind, I like the punch a nine-weight delivers. A floating line is a good all around choice.
The Placida ramp at Boca Grande and Ponce Park ramp in Punta Gorda provide good access to backcountry creek systems. From Placida, Bull Bay between Gasparilla Sound and Turtle Bay has lots of room to explore. From Ponce Park, south along the east side from Alligator Creek to Pirate Harbor is full of small creek systems.
My favorite open grass flats contain a mix of sand and healthy turtle grass. Game fish like to hold on the grass edges that they use as ambush points. Mostly, they're full of spotted sea trout; but, on a low incoming tide these flats provide a good opportunity to target tailing redfish. They're being opportunistic just like the fishery in the creek systems. Pine Island and Gasparilla Sound as well as Lemon Bay are worth a look.
In the harbor, pompano can be found on the hard bottom just off Cape Haze Point. Also, keep an eye on your boat wake as you're running outside the bar along the west wall. Sheepshead are everywhere and can be fished from land as well as boat. On land, the Placida trestle is very popular. Every dock, pier, underwater structure, and artificial reef will hold sheepshead.
Until next month, good tides.
Captain Michael Manis is a U.S.C.G. Licensed captain and has been teaching the sport of fly and light tackle angling since 2002. He lives in Punta Gorda, Florida and can be reached at www.puntagordaflycharters.com.