by Jay Striker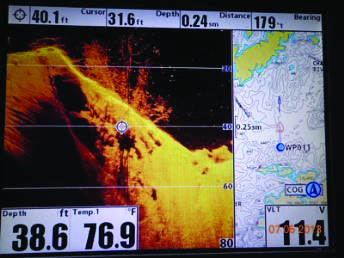 Fishing Ledges in mid-May to early June can provide some excellent fishing if you understand three things: how to fish ledges and how to set up on them and what baits to throw. Back in 2011 one of my bass club members asked me how he should fish ledges and what part should I fish. What baits to throw? I decided to take him to the lake and show him the basics of ledge fishing.
What is a ledge and how to fish them?  A ledge is a permanent piece of structure in a body of water that is usually marked by buoys on both sides of a channel that can run the length of the lake. On the edge of the channel you will find shallow water that will help you easily identify where the drop of the flat will be into deeper water channel (ledge).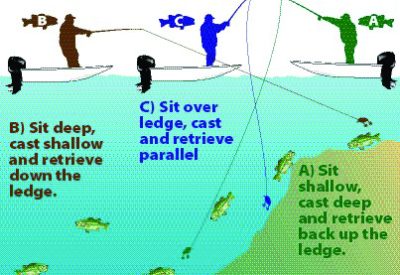 When I set up on the ledge, I like to fish it from all different angles, be it deep to shallow, from shallow to deep or just throwing my bait parallel to the ledge. What I'm looking for is something irregular on the ledge to concentrate on as the structure will be key to finding bass.  You have to have plenty of time as it may take some to find that one spot that looks good enough to warrant a cast to.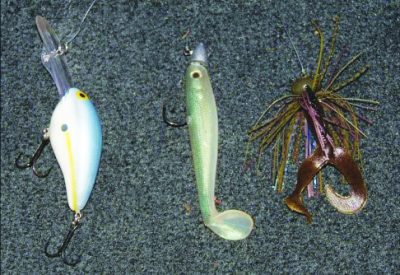 Throwing the right baits on the ledges are key also. The ledge bite on a few of the lakes in the South can start any time after fish have spawned. One of the keys to finding a lot of bass is to locate the baitfish. Because of the shad spawn taking place right after the spawn, the big bass are feeding heavily on shad. I like to throw deep diving crankbaits, Carolina rigs, swim jigs; and big football head jigs.  When throwing these baits I will usually have the deep diving crankbait tied on 12 pound test Suffix Tritium line with a Denali 7 foot cranking rod and allow my bait to run to the max depth on a 6:8:1 gear ratio reel.  On my swim bait and jig I will have on 20 pound test line with a little bit stiffer rod which gives me more confidence and control.
Ledge fishing can be a very productive pattern here within the next few weeks because the shad spawn and the spawning fish have starting their move back to deeper water. So get to the lake early and put some of the baits as described in your hand and hold on.
Till next time, fish some ledges and catch some big fish.  Thanks to everyone who reads and be sure to look out for my new FB page "The Striker Nation" coming June 1st.