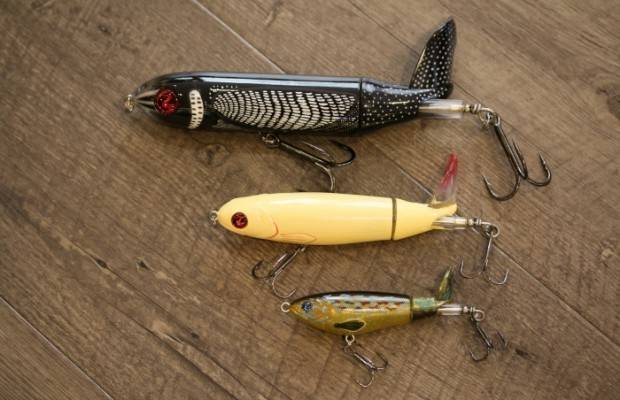 Developed by Larry Dahlberg and Simon Chan of River2Sea, the Dahlberg Series Whopper Plopper is a topwater plug that is taking the industry by storm. Though originally released in 2008, this caveating prop bait has finally gain some attention and notoriety among the pros and is quickly becoming a must have for recreational anglers.
The lure is available in three sizes, 90 (3-inches and 1/2oz), 130 (5-inches and 1-1/8oz), and 190 (7-1/2 inch and 2-3/4 oz). Though the 190 is more geared for bigger predators such as northern pike and musky, the 90 and the 130 are just right for local largemouth bass.
The Whopper Plopper 90 with its smaller size and less dig into the water is designed more for quickness than agitation. The rotating tail produces a higher pitch whirl than its larger counterparts. Its weight allows it to be cast over extended distances and it can be used in a variety of presentations such as start-pause-start, a slow constant retrieve, a fast retrieve, a walk-the-dog retrieve or any combination. The 90 also comes without noise inducing rattles which are available in the larger 130 and 190 series.
The Whopper Plopper 130 is the 5-inch version and comes with and without noise producing interior glass beads. With X-Strong #4 hooks, this bait is designed to take the punishment of the largest bass. The sound it produces during the retrieve is unlike any buzz bait that is on the market today. If worked slowly, it produces a thumping sound while creating a short splash. As the speed picks up, it produces a sound and splash similar to a bird's feet running across the surface before it gains flight. If you're looking for a topwater bait that will grab the attention of bass in water 2 feet to 10-feet deep, this is the lure for you. Due to its weight it will cast a very long distance. If casting with an overhead arc, the lure will penetrate below the surface so if you're fishing in shallow water or over submerged vegetation it's probably best to cast side arm and keep the lure's flight closer to the water so it won't pick up weeds upon entry into the water. Being that it can cover large spans of water quickly, it makes an ideal search bait.
Those on a tight budget will find the Whopper Plopper a bit pricey with a 130 going for about $18.00 retail. Locally they can be found at select tackle shops such as GS Outdoors in Sebring, Okeechobee Fishing Headquarters in Okeechobee, Roland Martin's Marine Center in Clewiston and on the web. Though available in thirty colors, quickly moving inventories may limit the color selection.
So if you're looking for a big fish lure that produces voracious strikes and is just fun listening to as it goes about its job, than you need a Whopper Plopper in your tackle box.