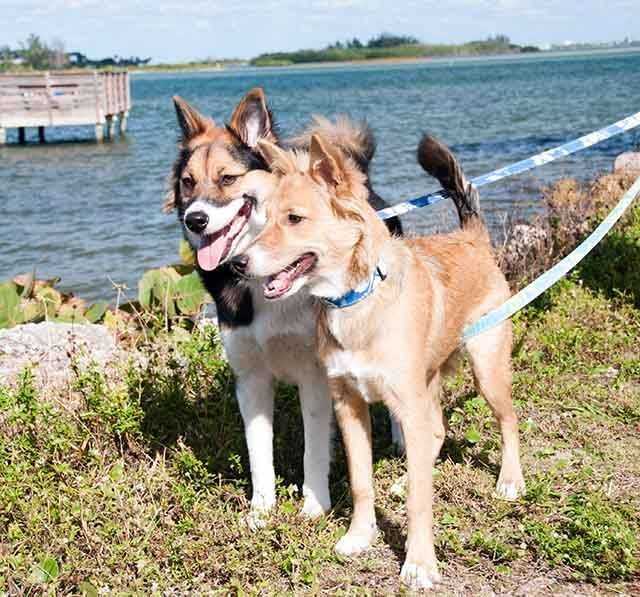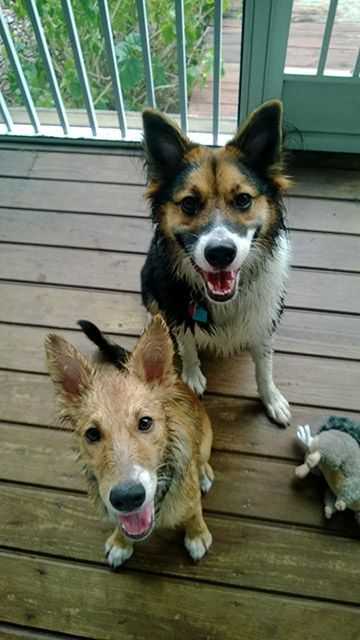 By Misti Guertin, Co-Publisher
Gary and I are happy to announce a new addition to the Coastal Angler family—Peaches, a seven month old potcake from Grand Bahama. Some of you may remember that less than a year ago, we welcomed Sapona Desdemona from Bimini to the family. Now (fortunately, because there is only so much running in the yard two humans can do) Sapona has a four-legged buddy to herd and chase. The two play hard, and what one doesn't think of doing, the other certainly does. Sometimes this results in mayhem, but along with it they create laughter, smiles, and lots of kisses.
Peaches and Sapona were fortunate to have two rescue organizations behind their adoptions, but there are thousands of feral dogs, puppies, cats and kittens in The Bahamas that are not as lucky. These unfortunate animals roam the streets, reproduce litter after litter, and die from illnesses, starvation or abuse.
Sapona's rescue was orchestrated byThe Stray Dogs of Bimini and Island Paws Rescue. The two work together to save the lives of stray dogs and cats through spay, neuter, adoption and educational programs. Sapona was airlifted from Bimini to Fort Lauderdale in a private aircraft by a generous second-home owner who donates her aircraft and pilot services to multiple Bahamas animal rescue groups.
After adopting Sapona, we became aware of another rescue group based in Fort Lauderdale, Operation Puppy Lift. This group is comprised of approximately 20 volunteers, and since 2007, working closely with the Humane Society of Grand Bahama, they have rescued 2,149 puppies and dogs, and 53 kittens and cats. Last year (2013), Operation Puppy Lift's largest airlift was close to 100 dogs and puppies. The 20 volunteers (which I had hoped to assist) helped receive the animals upon entry into the U.S. , assisted their processing through U.S. Customs, then bathed and walked the dogs, cleaned kennels, transported some to Delta Cargo for additional travel to their final destinations, and fostered others until permanent homes could be arranged.
Peaches arrived on a smaller puppy lift, and ironically upon adopting her, we learned that she too was transported to Fort Lauderdale from Grand Bahama by the same pilot who brought Sapona to the U.S. Thanks to Operation Puppy Lift volunteers Heike Dose and Scott Bursa (Potcake Collars), who issued Facebook pleas to find a home for Peaches, we saw Peaches photo, and the rest, as we say, is history.
Although the adoption of Peaches has a happy ending, there is a critical need for donations and volunteers to help the various animal rescue groups and organizations in The Bahamas, as well as those which help provide assistance stateside. During Peaches' initial vet visit, our family veterinarian reiterated that The Bahamas Government support and encouragement of spaying and neutering is crucial to stopping the overpopulation of "unwanted animals."
February 2-6, Operation Potcake, a five-year spay and neuter initiative of the international organization Animal Balance and the Bahamas Humane Society, descends on New Providence Island. Comprised of veterinarians and volunteers from seven countries, the group's goal is to spay and neuter 1000 animals in five days from three clinics situated in the most densely populated potcake areas. (In January 2013, Operation Potcake sterilized 2,315 dogs in two weeks.)
If you're an animal lover and you have time or resources (or both) to give, please consider helping one of the deserving groups below. And, if you'd like to give one of these magnificent potcakes a home, most of the resources below contain a list and photo galleries of the pets available for adoption.
Sapona and Peaches have a wonderful future ahead of them. Sadly, there are so many other puppies and dogs who will never enjoy the security of a loving home, a full belly, and the attention they so rightly deserve.