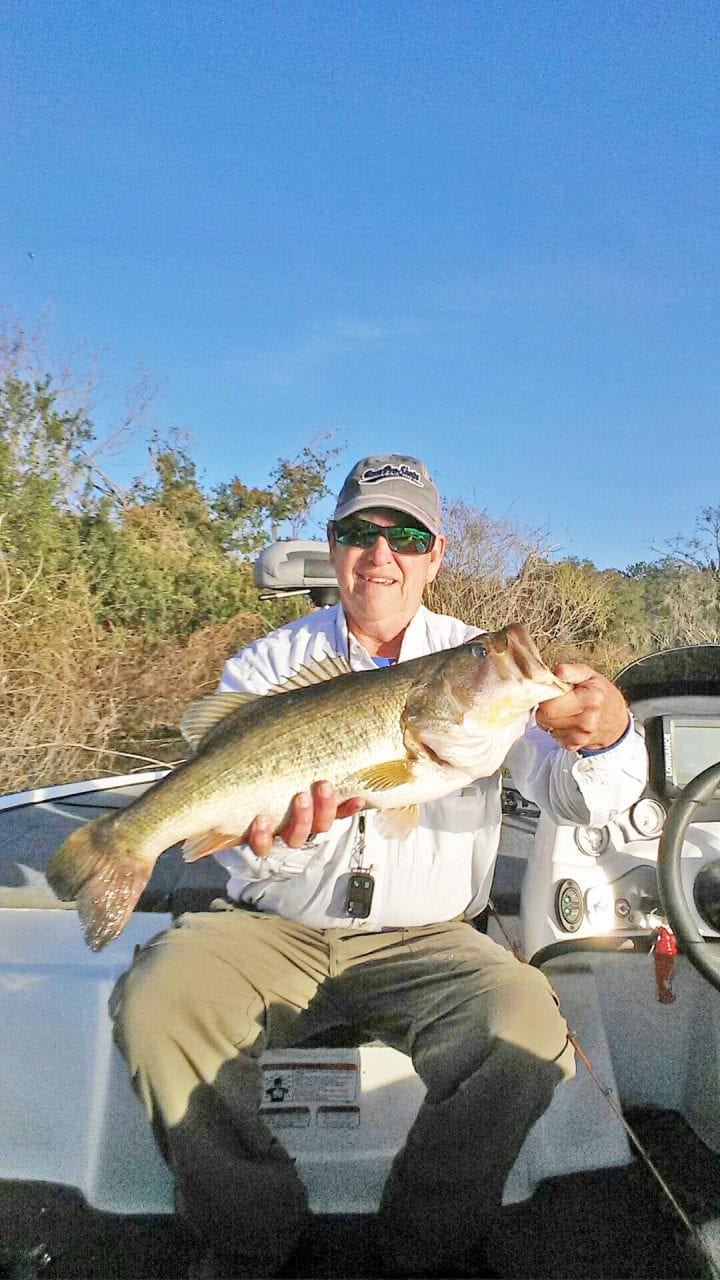 March Bass fishing in Polk County is at the top of its game. Right now during spawning season, Lakes Winterset and Howard in the South Winter Haven Chain and Lakes Alfred, Rochelle, and Haines in the North Chain are giving us the best reports. Many Bass in the 7-11 lb range, as displayed in the photo of angler Terry Shelton in early February, are being reported. Terry was fishing in nearby Turkey Creek Reservoir that day. Here's a tip for attracting larger Bass when fishing our area . . Use a Bassassin Boss Shiner Swim Bait in any assorted color, or my old favorite . . a Booyah Lipless Crank Bait in royalty color. Either of those choices will bring great results. If you've never tried them . . Now is the time to do it . . You'll be glad you did!
We are still getting good reports on Spec fishing in our area. As a matter of fact, this year seems to be the best in a quite a while. We should continue to see large Specs until the end of April, so come out and get in on the action soon. It seems the cooler weather we've been experiencing lately, has brought out the Shell Crackers a little early. Lake Rochelle here in Lake Alfred is a great place to start fishing for those Crackers . . You'll want to use live red worms for bait.
Where?? . . When?? . . What Bait?? . . Call me and I'll point you in the right direction. Better yet . . Come fish our area and stop in for first-hand daily information . . We're always stocked with live bait and a huge selection of plastic and hard baits.
Our 20th season of Ron's Tackle Box Weekly Bass Tournaments will begin the first Thursday in April (April 5th). Weekly registration is $30.00 per boat (1 or 2 man) and the tournaments run from 6:00 PM to 9:30 PM each Thursday through the end of October. Prizes are awarded for BIG BASS and 1st, 2nd, 3rd Place categories. The location each week is not revealed until Thursday mornings and is announced in "The Ledger", our Web Site, "Like & Follow" us on FB, or you can call Ron at (863) 956-4990. All around great fun . . Come out and join us!!
Submitted By: Ron Schelfo Owner RON'S TACKLE BOX, LLC
380 S. Lake Shore Way • Lake Alfred, FL 33850
863-956-4990 • www.ronstacklebox.com
Check us out on FaceBook and "LIKE" our page.
"Catch" my Weekly Fishing Report every Saturday (6-8 AM) on WFLA 970 AM