John Detmer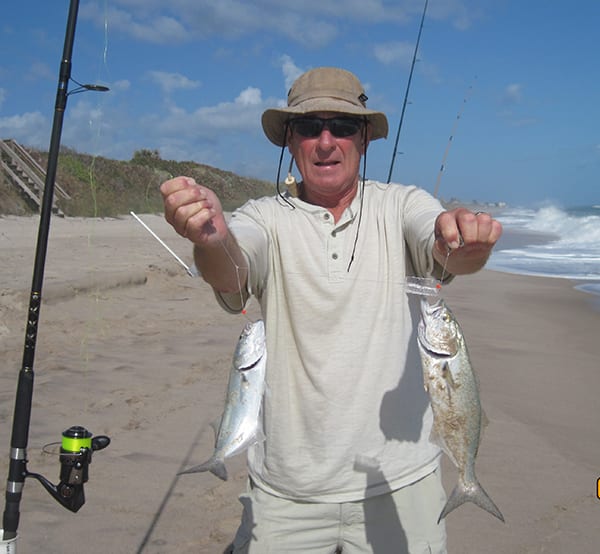 The good times are here again with the weather/water cooling and the surf fishing improving daily. My surf fishing the last two months has included preparing for tropical storms and hurricanes and then cleaning up after tropical storms and hurricanes. But now as we go into the last month of the monster 2017 Hurricane Season I can see the light at the end of the tunnel.
I am looking forward to catching some fish. I expect catches of whiting, bluefish, Spanish mackerel and black drum during the month. The mullet are still around in the surf/local canals and sandfleas can be caught at the beach with very little equipment. All you need is a small sandflea rake and a cast net for the mullet. Don't forget the Fishbites, that great little bait that always works when others do not. Fishbites comes in various saltwater flavors of sandflea, clam, and shrimp which I use regularly during the summer and winter surf fishing seasons. The other neat thing about Fishbites, it's a dry product that can stay in your tackle box or bucket for some time without spoiling.
Although one can catch fish at any of the Brevard County Beaches, I prefer the Melbourne Beaches South to Sebastian Inlet for my action. I try to find a beach with a good trough and clean water. Next I look at weather conditions like a Northeast wind at 10 knots or less and a rising tide to do my fishing. As we become better anglers water clarity, wind, surf conditions, bait for targeted fish and tides all become second nature and then we bore the heck out of family and friends telling them all about it. Have a great Surf Fishing November 2017.
John Detmer
Owner/Operator of J&H Surf Fishing the Space Coast
321-777-5554 or email
[email protected]
www.jandhsurffishing.com