By: Chris O'Byrne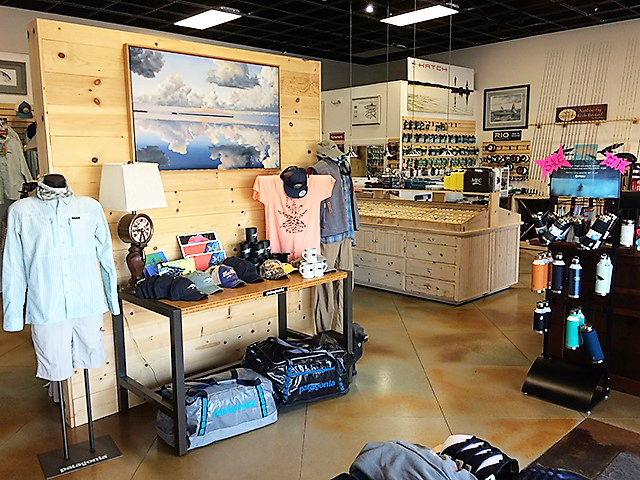 While catching fish on the fly is one of life's high points, a visit to a landmark fly shop is a small reward in itself. Whether preparing for a bucket list adventure, sneaking out on business, or spending family time; browsing the local fly patterns and unique features of a new fly shop can be the best part of any trip. Here is one of my favorites.
Cheerful ocean sunlight floats through the airy store front of Black Fly Outfitter to illuminate long rods, inviting trays of flies, racks of light clothing and multicolored paintings on fly fishing themes. Stationed ocean-side of Jacksonville, Florida, Vaughn Cochran's flag ship business is a leader in the promotion, outfitting and celebration of fly fishing.
Cochran, an entrepreneurial artist in fly fishing, is the founder of the Black Fly brand. While varied, his long career is formed around painting and fly fishing. After many years of guiding in the Florida Keys, fly fishing industry leaders recognized Cochran's fishing and management abilities by asking him to run some of the Caribbean's most prestigious lodges. Later, as Cochran explains, he was "open minded enough to realize the opportunity" to launch a destination fly fishing business. The respect he commanded in the fly fishing industry allowed him to draft knowledgeable employees who are serious about fly fishing and fly fishers. "We pride ourselves on being a very authentic fly fishing brand." He says with the satisfaction of success. "It is not something contrived."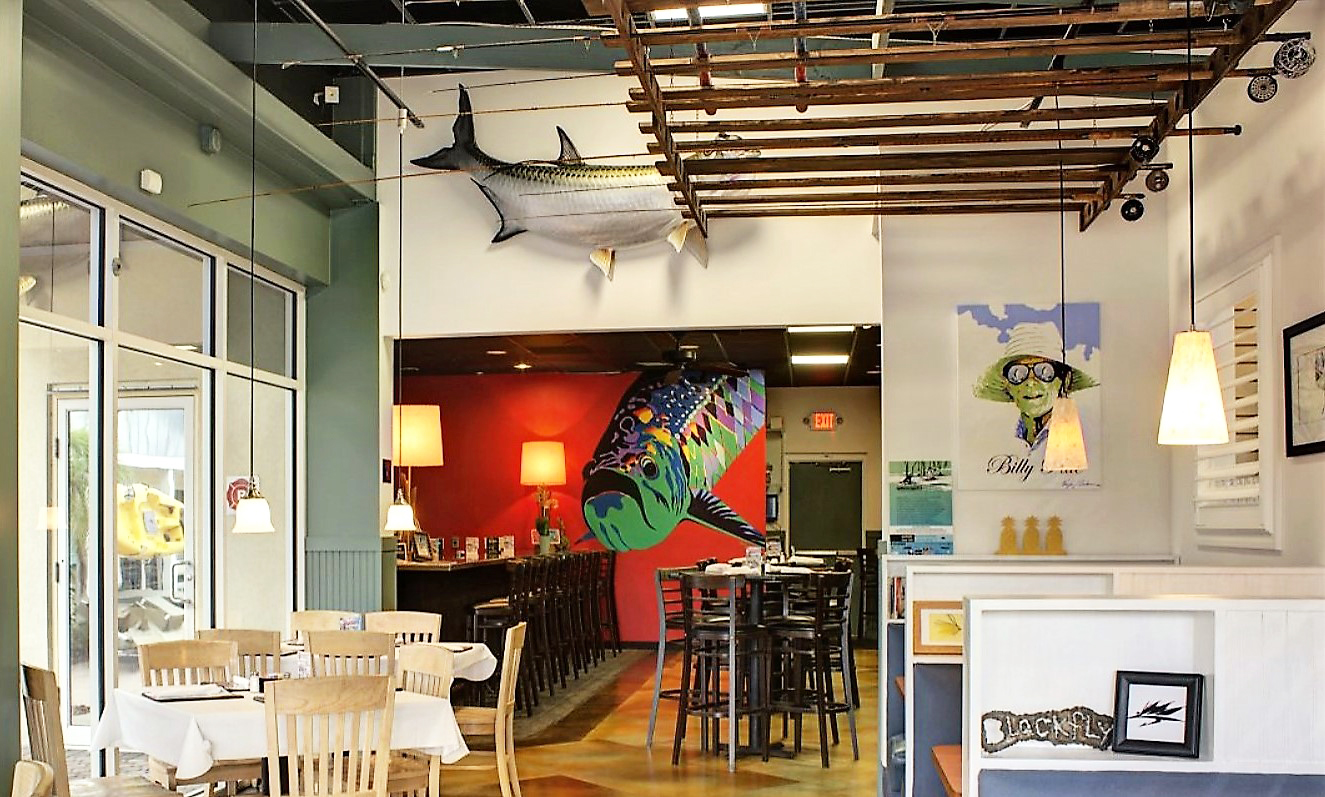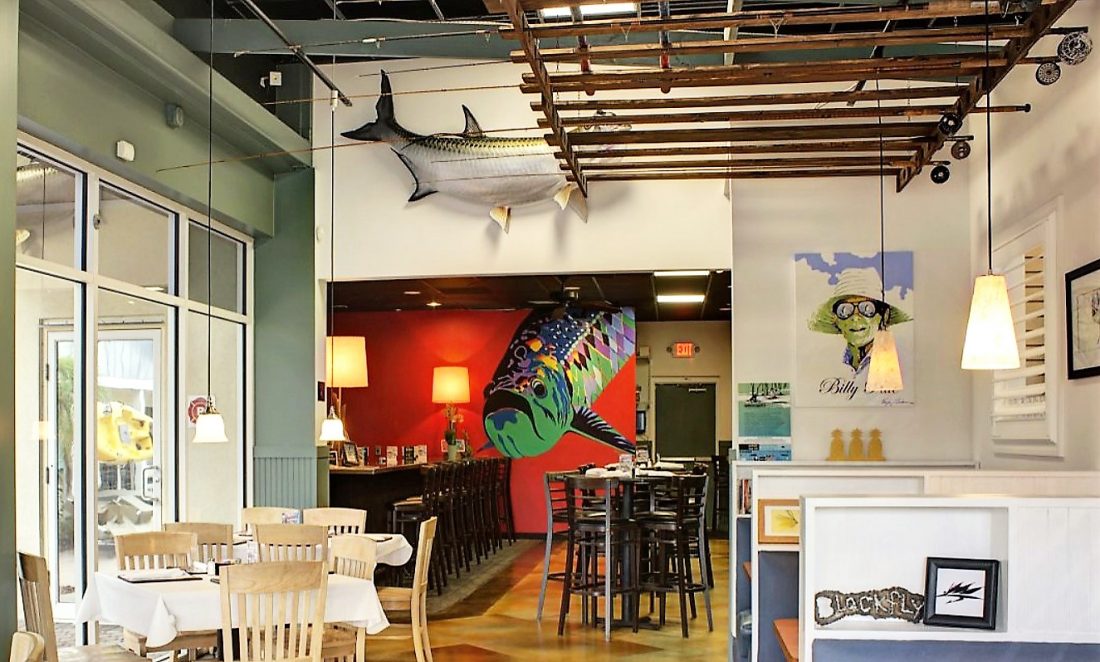 During one visit, I watched a detailed fly fishing school which attested to the fishiness of Cochran's managers and staff. So does their willingness to share precise knowledge of local waters. In continual preparation for action, they always keep weather radio playing in the anteroom. Black Fly Outfitters is so full of fly anglers even the chef fishes.
Yes, the chef. Black Fly Outfitters is the only fly shop with its own restaurant! The Black Fly Café and Tarpon Tap Room offers sanctuary from suburbia and overwork. In the café, business people plan, couples moon and anglers exaggerate. Island inspired dishes and fly fishing decorations compliment the store's décor.
In the store, like Cochran's body of artistic work, modern architectural features and bright colors sail side by side with traditional touches like bare wood to create a stimulating outdoor feel. Adding to the bright feeling of the store, which is anchored some five miles from the powerful confluence of the St. Johns River and Atlantic Ocean, are paintings by Cochran that celebrate fly fishing and rebel against the simplistic labeling of art appreciation class.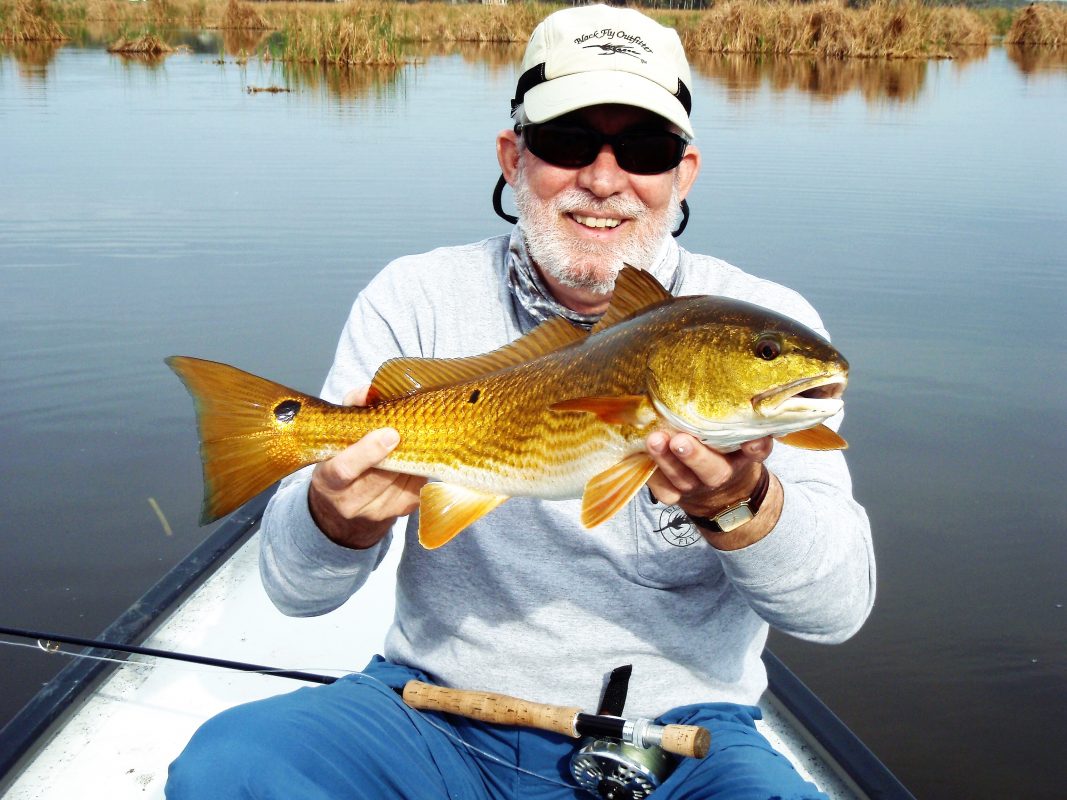 As if they were ships in an admiral's fleet, Black Fly Outfitter is just one business in a group of colorful fly fishing businesses. Through this task force, the shop outfits and hosts anglers for trips throughout the world.
While you are in north Florida, let the Black Fly pros set you up with a local guide.  Bruiser redfish top the big targets, but blues, trout and cobia are also chased in their seasons. Remember; hours spent on the water don't count against us, and Black Fly Outfitters Shop will help you make the most of that time in Florida and beyond.