Capt. Mark Wright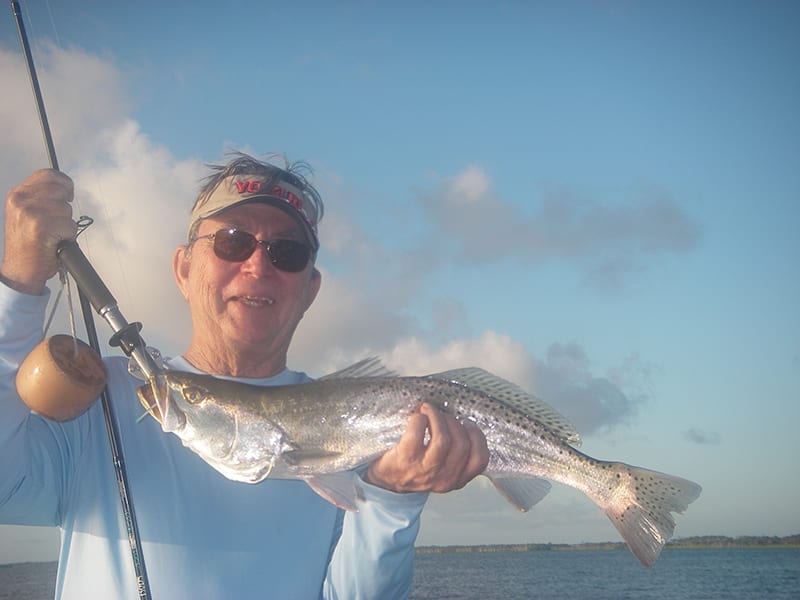 We have high water levels and this is to be expected given the fall season. However, I cannot remember water levels quite this high. Irma's wrath and the awful weather behind her are responsible for October's extreme water level. I imagine these levels will not drop substantially in November.
High water typically spreads our redfish, spotted seatrout and to some degree the black drum out across the lagoon flats and back waters. I actually like this trait as it tends to spread the fisher people out as well.
Covering water is a key factor for success and using spoons (I like Agua Dream Living) is a good option for covering an area quickly. Once an area proves to be "fishy" it may be prudent to switch to a swim-bait, jerk-shad or even cut bait to thoroughly explore the area.
We've been doing quite well with top-water walking lures during the early hours of our days and changing to Z-Man Diezel Minnowz and five inch Jerk Shadz once the sun intensifies. I expect these lures to be equally effective this November. A little tip here; it's been necessary to use heavier than normal weighted hooks on the soft plastics since the water levels have risen. Going to a 3/16th ounce keel weighted weedless hook (EZ Keeperz) rather than the 1/16 or 1/8th ounce has improved our catch greatly.
Capt. Mark Wright
321-302-3474
captmarkwright@earthlink.net
www.captmarkwright.com