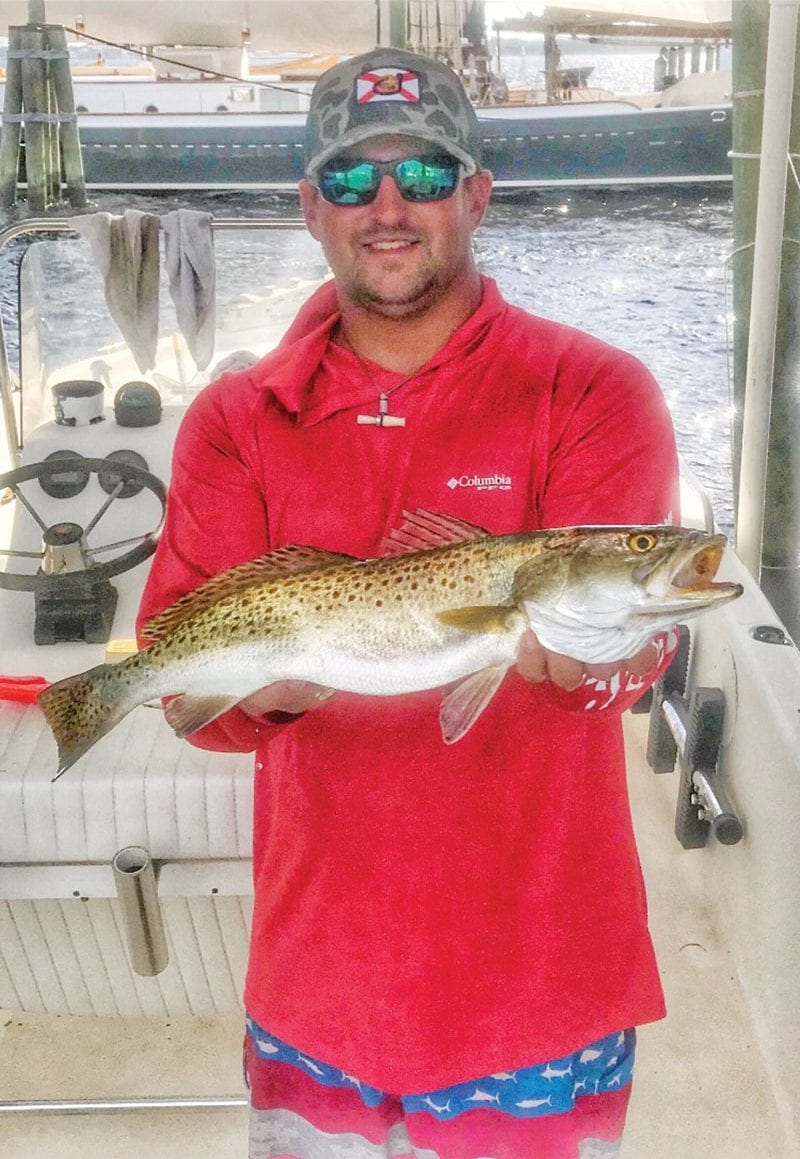 BACKCOUNTRY / BAY / INSHORE:
This month is one of the best for fishing because the crowds have thinned out and traffic on the water has decreased. Speckled trout fishing is excellent early in the morning. Try a top water lure or live bait in 1-4 feet of water. If live bait is the choice use a free line set up. If the pinfish are a problem, switch to a popping court to try to keep your bait out of the grass. The redfish are schooling on the flats and around the docks and deeper channels, in and around the bayous. Mullet, greenbacks and live shrimp work great. If live bait isn't an option use a soft plastic jig by DOA, VuDu, or Z-Man. Check with Ricky and Jerrod down at Howell tackle to see what colors are working the best at the time. There are some giant bull reds in the pass and under the big bridges. Look for birds diving on bait, or use your bottom machine to find the schools. When you've done that, fire your bait down and be ready. Flounder are being caught in the holes and drop offs in the bay on bull minnows, shrimp, finger mullet, and artificial grubs bounced along the bottom. Sheepshead and mangrove snapper are plentiful around the structures in the bay; anything from a private dock to the big bridges will hold them. Use a small shrimp or piece of shrimp for the sheepshead. For the snapper use a whole shrimp or a live greenback. The Spanish mackerel are everywhere in the bay and down the beaches. Live bait, small trolling rigs, and spoons work very well. A chum bag hung over the side will help as well. The tarpon are here and cruising the beach in very good numbers. Most large live baits will work if they are willing to bite, just remember…its high risk high reward. In other words they are very tough to catch and can be very frustrating but when you get it right it's worth it. Some really nice King mackerel are being caught trolling down the beaches and flat lining live bait around the buoys and over the wrecks.
OFFSHORE:
Red snapper is now closed but gag grouper is still open and are being caught on the wrecks bottom fishing. Just use a standard bottom rig with cut or live bait. A large live pinfish works great. Amberjack and trigger fish is open as of the 1st and they will eagerly fight over your bait with the snapper and grouper. There are also some really big mangrove snapper being caught on the wrecks and it is this captain's opinion that they are better eating than red snapper. Red grouper and scamp are being caught regularly as well. Don't forget to check any floating debris for tripletail and dolphin. And of course, always be prepared for a cobia to show up under the boat.
CAPT. DARYL SHUMATE
Liquid Native Charters
850-624-6968
Liquidnativecharters.com