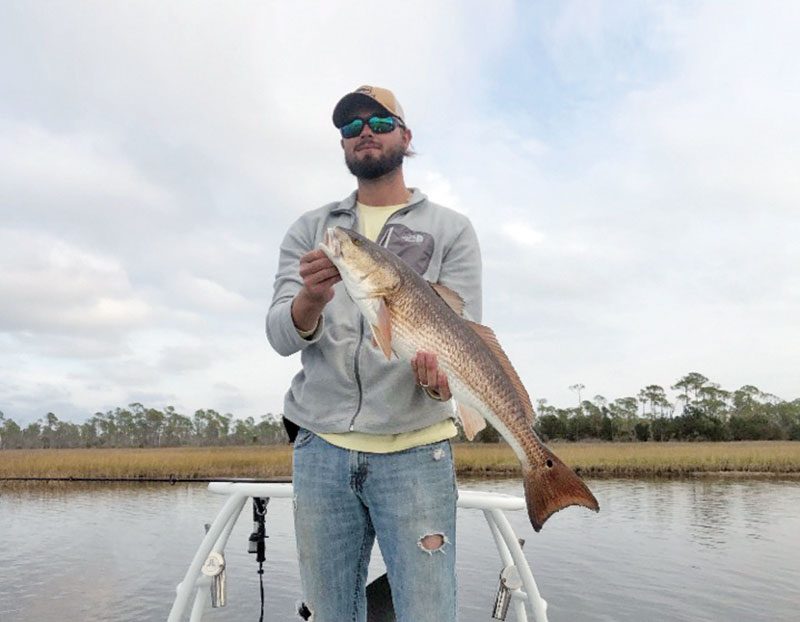 Backcountry / Bay / Inshore: Now that the water temperatures are down to those cold winter levels it's definitely time to get back up in the creeks and canals for winter time speckled trout. This time of year the fish are lethargic from the cold, so the presentation has to be very slow; many times it takes just a twitch every 20 seconds or so. Live shrimp works best but soft plastics lures, especially with a scent enhancer, will be productive as well. Expect a few redfish to be mixed in as well. Try the deeper holes in the intercostal waterways and around the rocks and drain pipes up and down the ditch as well as the smaller creeks like Burnt Mill and Crooked Creek. On the warmer days, when it is clear and the sun gets up, look for redfish laying or feeding very slowly on the bottom of the mud and grass mixed flats. Again a slow very quiet presentation is what will work. Cast well ahead of the fish and let them come to it. When they get close just give it a small twitch and let it sit. In the bay around the docks, rocks, and bridges, plenty of big mangrove snapper are being caught on light tackle bottom rigs with a small shrimp for bait. Flounder are still being caught around the pass, deeper channels, and down the beach using anything from live bait to soft plastics to gigs. Some kings are being caught trolling and flatlining as well around the inshore wrecks and buoys.
Offshore: Grouper, snapper, and scamp are plentiful on the wrecks offshore as well as trigger fish and amberjack. All of which can be caught on bottom fishing rigs with live or cut bait. Just don't forget to check the most up to date regulations on which species are in season. If you move away from the structures just a bit onto the sandy bottom there will be plenty of flounder to be caught as well, just use a light tackle set up and you should have dinner on the table.
Don't forget that the fishing is great this time of year so try to drag yourself out of the woods for a few days and get on the water.
CAPT. DARYL SHUMATE
Liquid Native Charters
850-624-6968
Liquidnativecharters.com