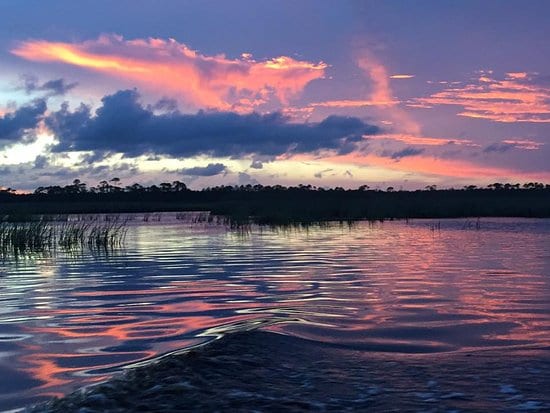 BACKCOUNTRY / BAY / INSHORE:
Spring is here and the fishing is going off! Speckled trout are moving back onto the flats and are being caught early in the morning near the banks on top-water lures like a Zara Spook or similar baits. Later in the morning when the sun gets high the trout will move out into the 2- to 4-ft depth and get down in the grass and potholes. Switch to a soft plastic presentation or go with suspending lures like the Mirrodine by Mirrolure. The redfish are also out in force churning up the mud on the flats. They can be caught in the same areas as the trout and with the same lures. The bigger bull reds are being caught in the pass and under the bridges on the outgoing tides feeding on shrimp and crabs. Sheepshead are showing up on the shallow structures throughout the bay but are really thick nearer to the pass. The jetties in the pass and the docks and rock piles throughout the bay will produce not only sheepshead but some nice mangrove snapper as well.
In the days since Hurricane Michael, anglers are discovering that the storm left some tree debris on the banks of the bays; don't overlook those. They are holding baitfish which brings in the bigger fish. The trout, redfish and sheepshead love them. The flounder are also making their way in and are being caught near the pass around the shallow drop offs, ledges, and potholes. Use a soft plastic grub on the bottom. Live bait will work in all these situations as well. Everyone is waiting on pins and needles for the cobia to show up. Once they do, you'll need to start heading down the beach sight fishing looking for that dark shadow. Have live bait like an eel and a cobia jig ready because it happens fast.
OFFSHORE:
Plenty of fish are being caught on and around the wrecks and structures. Lots of red snapper and grouper are being caught, but can't be kept yet; the same goes for amberjack. Triggerfish season is open and the action is good. Live or cut baitfish on or near the bottom will work great. Be sure to check the ever changing offshore regulations before you go.
Get your family and friends back out on the water to enjoy all our area has to offer. It's a great hurricane stress reliever and a way to reenergize.
See you in the salt!
CAPT. DARYL SHUMATE
Liquid Native Charters
850-624-6968
Liquidnativecharters.com