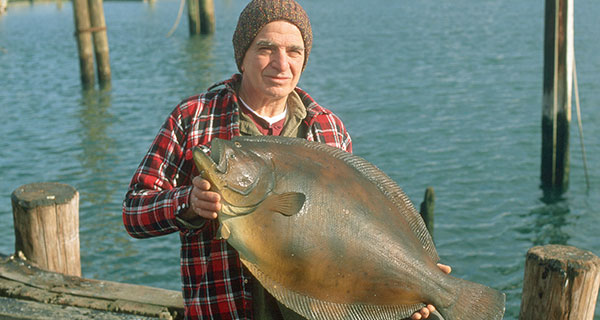 By Tom Schlichter
Think fluke season is just about over? Think again!
As much as I hate to admit it, Labor Day marks the beginning of the end for summer. Sure enough, over the next few weeks, a slight chill will work its way into the pre-dawn routine, acorns will begin to drop from the oaks, and baitfish will pack into ever-tightening schools as they inch toward the inlets and then flood the ocean's near shore waters with a living chum slick.
I loathe the passing of summer, as I'm sure many of you do. But then, it does offer a great shot at hooking up with doormat fluke. Right now, the summer flatties are as heavy as they are going to get – and the biggest fish are at their most aggressive. If summer is going to slip away, we might as well make the best of it. Lifting the fluke of a lifetime over the rail is one way to do so.
HEADING SOUTH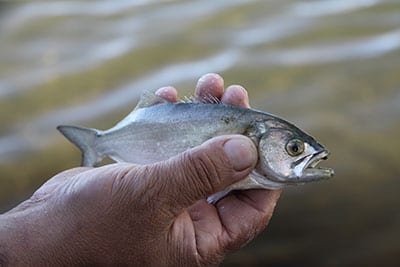 If you want to connect with really big fluke at this time of year, forget the bays, rivers and shallow flats. The biggest fluke – those monsters weighing 8 to 10 pounds or more – tend to hold in deep water as the summer slips away. You'll find them in well-defined channels leading out into big water, at the inlets and in the open ocean from half a mile to 3 miles or more off the beach. It is in these areas that the fluke post up, waiting for baitfish, small blues, young-of-the-year weakfish and the like to begin their southward migrations.
Once those smaller fish begin pouring out of the bays and shallow water areas, the big fluke blitz begins. From the Nantucket Shoals in Massachusetts, to Block Island, RI and Montauk Point, NY, September sees the run kick into full gear. As the fishing begins to wain at the more northern locations, the catches spread south and west to Shinnecock, Fire Island, and then Ambrose Channel, NY.
Watch the reports and you can see the fish working their way down the coast and a bit offshore. Thus, you should have a week or two notice before the action gets started in waters that are close to home. Get on the fish fast, however, for these fluke are on the move. They are heading south more than west, edging further and further offshore. The fist sustained catches usually come from 40 to 50 feet of water, at the mid-point of the run, 60 to 80 feet holds the hordes. By the time the fishing is wrapping up (or the fluke season comes to an end), the action can be in 70 to 90 feet or even deeper – some real monsters are taken from wrecks in over 120 feet of water every year by anglers targeting late fall sea bass and scup. In some areas the fluking also comes to an abrupt halt due to season closures, so check your local regulations.
BULK UP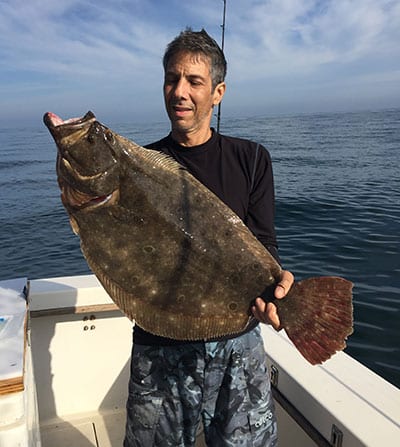 This deep water action with summer flatties isn't a light tackle affair. In fact, it's quite the opposite. Bring along a light ocean bluefish setup, your favorite conventional outfit for pulling porgies and sea bass off ocean wrecks, or that same rod and reel you like to use when clam-chumming in strong currents under channel bridges. Leave your 12-pound test spinning gear in the rod rack because it's not sturdy enough to handle the weights and big baits you should be using to target these brutes. I like to use a 30-pound class conventional outfit but many anglers bump it up to 40- or 50-pound test when using braided lines.
Rigging for this action generally consists of a standard bottom rig with a #5/0 wide gap or Sproat style hook on a 3-foot leader of 30- to 40-pound test mono. Tie the hook into the main line via a dropper loop or three-way swivel positioned 4 to 6 inches above the sinker. Figure you'll need 4 to 8 ounces of lead to hold bottom in most areas, maybe another 2 to 4 ounces if the current is running hard or when fishing on full moon or new moon tides. Fluke of 8 to 10 pounds are always a possibility when you fish big baits in deep water at this time of the year, and 5- to 7-pounders are a daily occurrence at some ports. Summer flatties this size can put up quite a scrap and it's better to be over-prepared than under-gunned when a doormat grabs your line.
BIG BAITS ARE BEST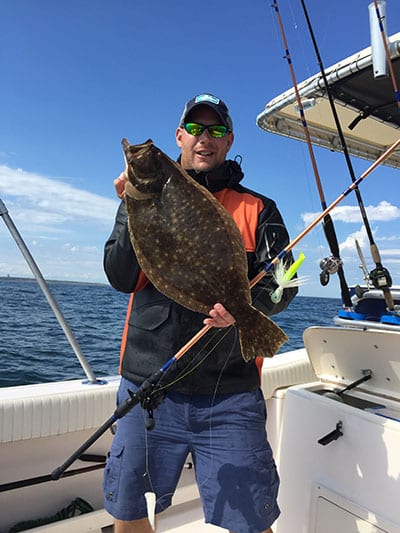 One significant change from fluking earlier in the season is a reliance on very large baits come the fall run. Trade in your spearing, sand eels and squid strips for large smelt, 6- to 8-inch strip baits, or a small, live snapper blue. These offer doormats something to get excited about. Better still, they discourage smaller fish from biting which gives the big gals a better chance at getting to your bait. The snappers and bergalls will even work if dead and fished whole. Just hook them through the eyes. If you would rather go with bucktails, set up with a 2- or 3-ounce Spro tipped with a long strip bait or 5- to 6-inch Berkley Grub. To get deep, you can use the bucktail in place of the bottom hook on your standard high-low fluke rig.
When is the best time to fish for doormats? The late Charlie Nappi, International Game Fish Association (IGFA) All-Tackle World Record holder with a 22-pound 7-ounce whopper and several smaller line class records to his credit, used to say that it was the last 15 minutes of any tide. In my experience the first and last hour of any tide will suffice. According to Nappi, at this point the waters are moving fast enough to continue tossing baitfish around, but most of the smaller, more aggressive fish have had their fill. Thus, those baitfish still in trouble are easy pickings for the biggest, oldest and laziest of summer flatties. Look for the biggest fluke to come from the most turbulent rips.
Naturally, you'll want to be judicious when it comes to planning late-season ocean fluke trips. Having good drifting conditions is imperative to success. As such, avoid new and full moon tides as they result in too much current, and jump on days when wind speeds are 12 knots or less.
Your last shot at doormats for the 2018 season is now officially underway, so make your plans quickly and get out. Season end dates for recreational fluke fishing in Northeast waters include October 9 for Massachusetts, December 31 for Rhode Island, and September 30 for both Connecticut and New York.